Roll over image to zoom in
Description
These small single-pole, double-throw (SPDT) slide switches are rated for 300 mA at 50 VDC and have a 0.1″ pin spacing that works with standard solderless breadboards.
Used alone, they make great on/off power switches for low power electronics or offer a convenient way to switch between two analog or digital input signals. The switch can also be combined with a MOSFET to make a higher-power switch (see our Mini MOSFET Slide Switch with Reverse Voltage Protection for an example using a smaller, surface-mount slide switch).
They are sold in packs of 3, so ordering one of this product gets you three switches.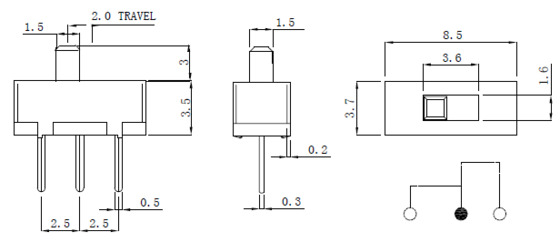 Mini slide switch dimensions (in mm).
Thank you very much for your purchase and review! All the best for your projects and have a great day! :)
items working as intended, the delivery was very fast