Roll over image to zoom in
Description

7" HDMI Touch Display
With Case
Device & System Support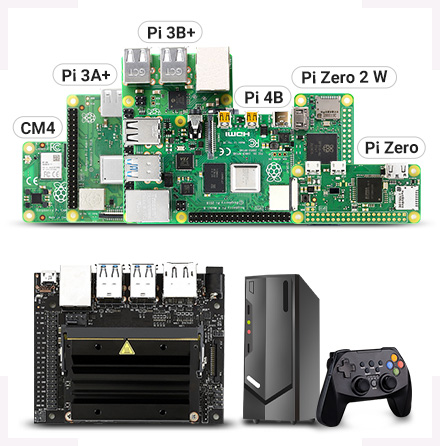 Raspberry Pi
Supports Raspbian, 5-points touch, driver free
Supports Ubuntu / Kali / WIN10 IoT, single point touch, driver free
Supports Retropie, driver free
Supports all versions of Raspberry Pi
Jetson Nano
Supports Ubuntu, single point touch, driver free
PC
Supports Windows 11 / 10 / 8.1 / 8 / 7, 5-points touch, driver free
Game Console
Xbox360, PS4, Switch...
Hookup Examples
With Raspberry Pi 4
With Raspberry Pi Zero W

With NVIDIA Jetson Nano Developer Kit
With Mini PC

170
° viewing angle on a IPS panel
Other features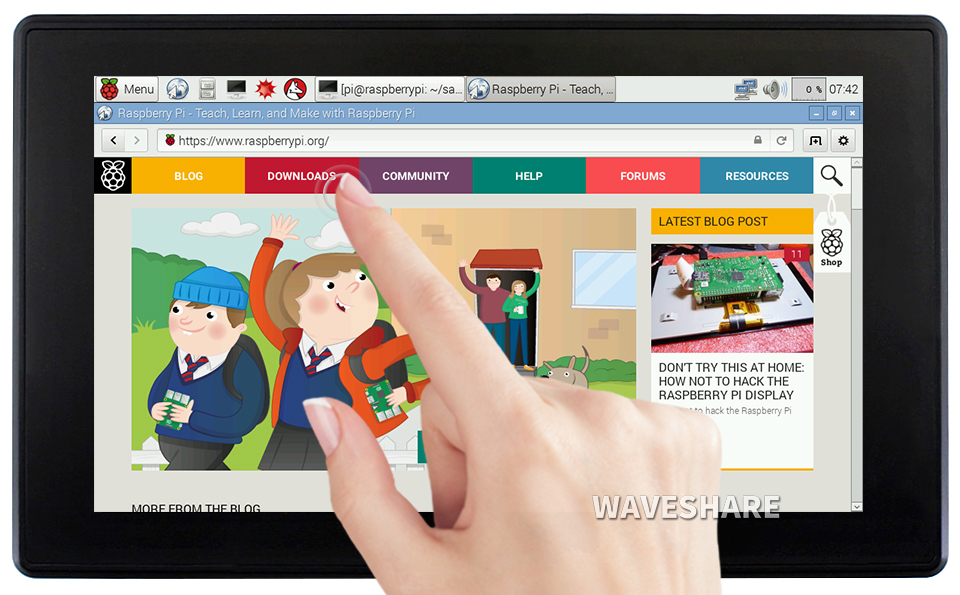 1) up to 5-points touch, depending on the operating system. 2) up to 6H hardness toughened glass panel.
Compatible with gaming consoles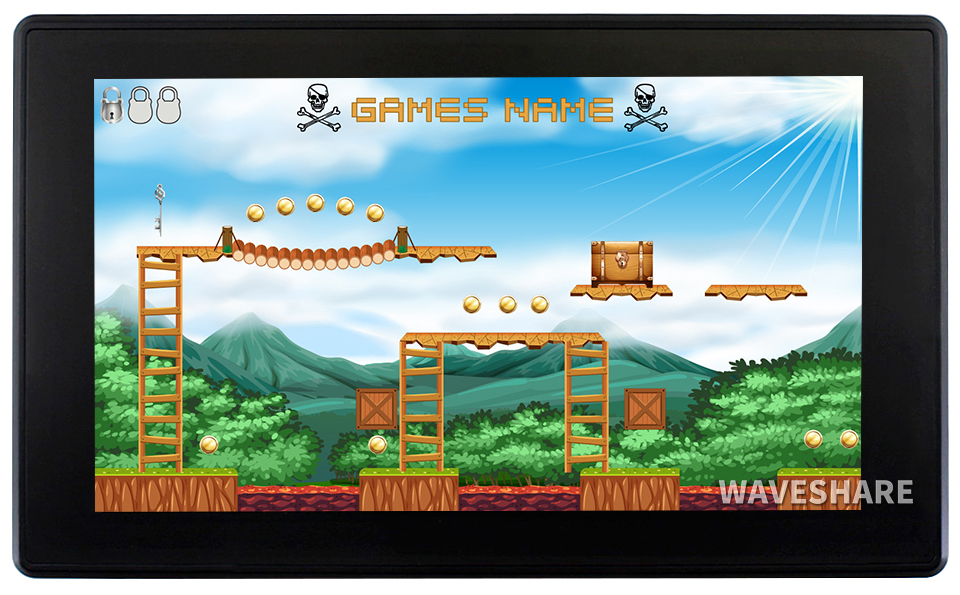 Appearance And Dimensions
Features:
7inch IPS screen, 1024 x 600 hardware resolution, configurable by software (up to 1920 x 1080).
Toughened glass capacitive touch panel, 6H hardness.
When used with Raspberry Pi, supports Raspberry Pi OS / Ubuntu / Kali and Retropie.
Use with Windows PC, support Windows 11 / 10 / 8.1 / 8 / 7, 5-points touch.

When used with Jetson Nano, supports Ubuntu, single point touch.

Multi-languages OSD menu, for power management, brightness/contrast adjustment, etc.
It has a 3.5mm audio jack and supports HDMI audio output.
Supports VGA input (specific cable is required and should be purchase separately).
High-quality PC case, optional tilt angle: 30°/50°.
Wide 170° viewing angle.
Package Includes:
7inch HDMI LCD (H) (with case) x1
HDMI cable x1
HDMI to Micro HDMI Adapter x1
USB type A plug to micro B plug cable x1
Quick start sheet x1
Thank you very much for your purchase and review! Have a great day! :)
Thank you very much for your purchase and review! Have a great day! :)
Thank you very much for your review! Have a great day!
Performance:Smooth without any noticeable latency
Best Feature(s):Has a touchscreen function
Value For Money:Surprisingly cheap for a cheap and compact display
It's my first time buying such a product, I think it was quite worth it as it combines touchscreen ability with a screen and casing all together in a relatively affordable package. If anything, I feel like the stand could have more angles and the screen resolution could be more up to standard.
Thank you for your review and feedback on the screen! Have a great day! :)
The touch screen is working and works fine. Good for the price and would get it again
Thank you very much for your review! All the best for your projects and have a great day! :)